What do you do when you have a question, and you want to find a quick answer? Chances are, you do what we all do! You Google it.
There's nothing wrong with that. However, I'm sure you'll agree, it's not easy to sift through all the information you get from a search to find an answer that's accurate, up-to-date, and relevant to your situation.


After all, you don't want to end up acting on bad information.
That's where I can help.
You see, when it comes to real estate, you want to make sure you get the most accurate information possible, based on the most up-to-date data that pertains to this local market.
I can provide that.
But, more than just solid information, I can also give you insights that make that information relevant to you. For example, I can tell you approximately how much your home would likely sell for today.
So, if you need the best information, contact me. I'm happy to help.
Selling your Home and those Two Little Voices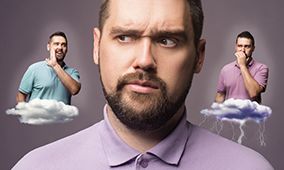 When you're shopping for a new car or anything else that impacts you personally, you probably have two little voices chatting in your head. The first is saying, "This is what I want." The second is asking, "Can I really afford this?"
Ideally, both voices are in agreement and you're able to buy what you want at a price that's reasonable. Of course, there are other times when you'll need to compromise on some features in order to stay within your price range.
This same dynamic plays out when you're thinking of moving. You may start wondering, "Is the type of house I want to get into really within my price range?"
In fact, that question holds many homeowners back from even considering a move. They're stuck wondering if they can get into the home they want.
If you've been wondering the same thing, why not find out? It's relatively easy.
The first step is to calculate how much your current property would sell for on today's market. That figure is determined by many factors, but it's mainly driven by what similar properties in your area have sold for recently.
Once you know what you can expect to get for your home, you'll need to find out how much of a mortgage (if required) you qualify to receive.
The final step is to take a look at current listings in neighbourhoods you're targeting and see which properties for sale fit within your budget.
You might be pleasantly surprised to discover that the two voices in your head are in agreement, and you can get the home you want at a price you can afford.
Should You Replace your Windows?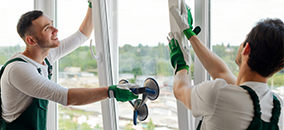 Here's a surprising statistic. Less than 30% of window replacements are the result of the old windows being worn, broken or otherwise in need of replacement.
Clearly, there are other good reasons to consider new windows! 
One of the most popular motivations is cosmetic. Brand new windows have a huge impact on the overall look of a home, both on the inside and the outside. New windows can improve curb appeal — an important element when you sell a home. From the inside, new windows can dramatically improve the look of a room.
Another reason to replace windows is to address energy costs. Modern windows are packed with technologies that lower heating and cooling bills. From low-e/argon to special spacer bars to highly insulating options, window technologies can provide savings you'll notice, especially if you're replacing very old windows.
A third reason is window style and characteristics. Simply put, you may not like your current windows! You may want more glass and less frame to enhance your view. Maybe your windows pull up (vertical sliders) when you'd rather have them open like a door (casements). Perhaps you'd like fancy blinds in-between the panes of glass. Replacing windows lets you get exactly the look and features you want.
Will new windows boost the resale value of your home? They might, at least a little. But there's one thing for certain: upgraded windows definitely make your home look more appealing to buyers.
How to Get the Buyer's Perspective on your Property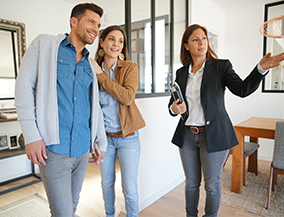 When you walk through the front door of your home, you have a very different experience than a buyer would. You see the familiar. You see the memories. You see your life. In fact, you might even wonder why anyone would hesitate to fall instantly in love with your home.
Buyers, however, don't have that same perspective.
When they walk through your front door, they see a place they've never been before. To them, it's a stranger's home. They're looking at your property with a critical eye.


They're asking questions like, "Is the living room large enough? Do we like the feel of the place? Is it move-in ready or do repairs and improvements need to be done? Does it feel spacious or cramped? Neat or cluttered?"

So, when preparing your property for sale, it's important to analyze it from a buyer's point-of-view. A good exercise is to pretend you're a buyer and walk through your home, starting at the entranceway. Ask yourself "buyer questions" as you visit each room.

For example, when you see the kitchen, from a buyer's perspective, what do you like about it? What do you not like? Do the same with the other rooms and spaces in your home. Imagine, as the buyer, noticing clutter, needed repairs, poorly lit areas, and rooms that feel small and confining.

Also, of course, notice those features that would likely impress a buyer, such as a modern ensuite bathroom or new and stylish kitchen appliances.

Once you've done that exercise, you'll have a clearer idea of what you need to do to make your home look its best to buyers.

Remember, an interested buyer is more likely to make a good offer on a property that "shows" well.