If you needed advice regarding your investments, taxes, or even a plumbing issue, what would you do?
Your first instinct might be to do a Google search. That's quick and easy. But, the problem is, Google doesn't know you or your situation.
A much better idea would be to reach out to a trusted advisor, accountant, or plumber. You'd be connecting with someone who cares and who could provide information and advice specific to your situation.
Why do I bring this up?
When you have important questions about your home and the real estate scene, I invite you to contact me.
As you can imagine, as a real estate professional, I have the latest data and insights. I can provide you with the best answers applicable to your situation.
And, most importantly, I care! Whether you're simply asking a question about the local housing market, or want more in-depth advice and recommendations, I will always work in your best interests.
Reach out to me anytime!
Does your Home Still Match your Lifestyle?
When you purchased your current home, chances are it was a good match for your lifestyle. It had the space you needed, the features you wanted, and a location that worked for you.
But for most people, lifestyle and needs evolve through the years. Kids get older. Jobs or careers change. People take on new hobbies and other interests.

As a result, the home that was ideal a few years ago may not fit with your current lifestyle.

That doesn't necessarily mean you need to shop for a new home! However, it may mean that it's worth taking a look at the market and seeing what's possible.

Think about the kind of home that would support your lifestyle today. Ask questions like:

How many bedrooms do we need?
How easy is it to travel to work each day?
What special features do we want in our home? (Big backyard? Rec room? Quiet neighbourhood?)
What do we want nearby? (School? Playground? Walking and biking trails? Shopping? Entertainment? Golf?)
What else does our home need in order to support our lifestyle?


After asking yourself some of these key questions, ask other family members for their opinions too.
You may, in fact, find that the property you have now is still ideal for your lifestyle.
If, however, your home is no longer a good fit, you have options. You can stay in your current home despite it no longer being ideal; you can make some changes (a renovation, perhaps); or, you can see what's available in the housing market.
If you need help with any of these options, call today.
Synthetic and Composite Countertops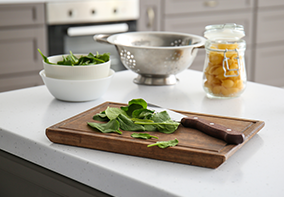 New countertops have always been a major contributor to kitchen makeovers, and the range of choices has never been greater. Beyond laminates and tile, or natural stone, wood and bamboo, some durable acrylics have become quite popular.
But, there are also newer composite materials that offer advantages which might make them an ideal compromise between natural and synthetic countertops. Generically known as solid surface, engineered stone or quartz composite, they go by many different brand names, and have unique features not found in other surfaces.
For example, they tend to be harder and more durable and stain resistant than traditional countertops, because they are formed with a combination of natural materials and synthetic bonding compounds. The solid-surface types appear seamless, are made of about 2/3 mineral powders and 1/3 resin, and are available in a range of colours and designs that sometimes mimic nature (e.g., white marble). The quartz types are closer to 90% natural stone fragments with about 10% resin, so they are even harder by comparison, although the range of colour and design options is narrower. Nowadays, with so much to consider, it's wise to consult a countertop expert about your material options and installation costs.
Lighting Matters when Selling your Home
Remember the last time you were in a furniture store or other major home retailer? Remember the fully decorated displays of furniture, appliances and other products? Some of those may have even been organized as model rooms.


What did most of those displays have in common?
Chances are, they were well lit.
In fact, in the retail industry, there are professionals who specialize exclusively in display lighting. It plays such an important role in showcasing and selling home products successfully that the stores are willing to absorb the expense.
The same holds true for your home.
If you want to show your home well, and sell it quickly and for the best price, make sure every room is well lit.
There are probably some rooms in your home where the lighting is adequate, such as the kitchen and bathrooms, and perhaps the foyer. But there are other areas where the lighting may be mediocre. Take a close look at:
Closets
Storage areas
Bedrooms
Laundry rooms
Hallways
The garage
If there are areas in your home that are dark or shadowy, the solution may be as simple as installing higher wattage bulbs, provided your fixture can accommodate them. Keep in mind that brightness can vary significantly from one type of bulb to another. Your goal is to make the room feel bright yet comfortable on the eyes.

Also, don't forget to open drapes and blinds. Often the best and most pleasant source of light for a room is the sun shining through a window.

Want more tips on showing your home well? Call today.